February 4, 2020
The power of complementarity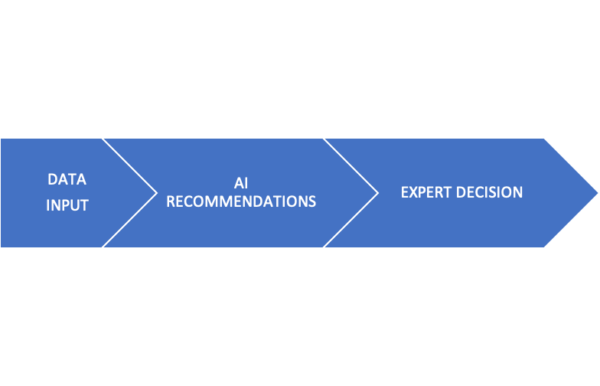 Technology is complementary to human skills, not competing, as humans and machines are good at different things
Machine learning tools excel at efficient data processing, where big amount of data are computed for a specific purpose.
Humans are better at making judgements based on complex data
Therefore, computers do not replace experts but allow them to do more by:

Helping to automate repetitive tasks, such as:

Automating image analysis to increase efficiency and reproducibility of the process

Analysing huge amount of high-dimensional, multimodal, unstructured data, such as:

Fault detection in continuous process
Product quality
Defect prognosis

Reduce the number of options to be tested experimentally by 'pre testing' using in silico models, such as:

Chemical properties prediction before the substance is synthetized in the lab by a chemist
Prediction of biological effect (e.g. toxicity) of big number of substances before performing in vivo experiment with smaller, preselected group

Machine Learning provides accurate insights for better decision making, applicable for processes such as (bio)production, operations, fault detection, maintenance, decision support, product quality improvement
Questions which can be answered with machine learning:
DESCRIPTIVE: What happened?
E.g. process, product quality
DIAGNOSTIC: Why it happened?
E.g. fault assessment, monitoring of equipment conditions or chemical process
PREDICTIVE: What will happen?
E.g. defect prognosis, yield prediction
PRESCRIPTIVE: What action to take?
E.g. adjusting parameters